JOYCE of Whitchurch     Clockmakers 1690 – 1965
Whitchurch Tour
On 18th November 2022 a group of about 35 members of the AHS Turret Clock Group assembled near Whitchurch for two days spent visiting and talking about the tower clocks in the part of Shropshire which surrounds Whitchurch. Our focus was to discuss which clocks in the wider area had influenced Thomas Joyce's design choices when making his series of double framed clocks. His entire series features in the Part 1 booklet below. We were blessed with a window of unexpectedly bright and mild weather and with wonderful accommodation at Hawkstone Park.
NEW  There is now a new and updated version of our first booklet. It is entitled  The Turret Clocks of Thomas Joyce. Part 1. Double Framed Clocks 1836-1853 (2022 version). Click the image below to open. The previous version is no longer available.
Latest – The clock on the front of the former Joyce of Whitchurch building, (now Trevanion Auctioneers) has been having a bit of extra special care and attention by the Cumbria Clock Company. Click on an image to open it fully.
BOOKLETS with images and information about Joyce clocks  Click the image to open each booklet.
The Turret Clocks of Thomas Joyce (1817 – 1861)  Part One (New version available see above)

The Turret Clocks of Thomas Joyce (1817 – 1861)  Part Two


An A to Z of Joyce clocks, 1862 – 1965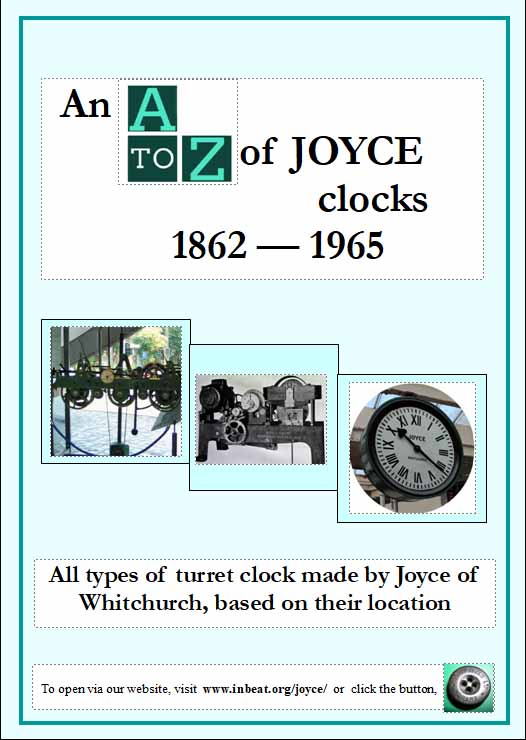 SAD NEWS  It was with great sadness we heard of the death of Paul Fraser on 20 April 2020. We will remember Paul with deep affection and gratitude for the inspiration and support he gave us to research Joyce of Whitchurch and their clocks.  It was he who suggested we should go on to write our book. It was Paul who helped us fix our first turret clock and it was he who took us to St Alkmund's Parish Church, Whitchurch to see the fine three train clock made by Thomas Joyce in 1849. Paul had tended to the clock with pride and care throughout his long career at Joyce's. May he rest in peace.
Click the thumbnails below to see a few images of Paul we took of Paul over the years.
The Joyce family were Shropshire clockmakers for almost three hundred years. Click here to find out about the family and our researches. Click each image below for a larger view.
Copies of our book are available.   Details below. See Buy our Books page
History of the Joyce family of clockmakers based at Wrexham, Cockshutt and Whitchurch, including some examples of non-turret clocks they made.

A chronology of Joyce turret clocks tracing the development in turret clock design.

A year in the life  – 1957 from the company Day Book.

Click the thumbnails below to see some sample pages (in low resolution) from the book:
The Whitchurch Herald and the Chester Chronicle newspapers ran reports on the book. 
Read Chris McKay's review of our book, below, which was published in the Horological Journal, February 2014 issue.
The February 2014 edition of Clocks Magazine contained a review of our book. John Hunter began….  '………… it seems, the noises coming out of the British government are indicating that the economy is on the mend – and no bad thing too. I think this is reflected in the horological world. Correct me if I'm wrong, but there seems to be a more positive note around and about.    We can see this in a number of ways – even in this issue of CLOCKS Magazine. For example on page 30 you will find a review of a magnificent new book about Joyce of Whitchurch, the well known makers of turret clocks………..'  Click for pdf.
JOYCE news (latest on top) 
For a Tour of clocks in and around Chester made by JB Joyce & Co,,  click here.
Tilstock Primary School in Shropshire has a roundhead wall clock made by JB Joyce which has recently been refurbished. Click here to read about it.
The Joyce name lives again   The Smith of Derby Group, which is now an amalgamation of four former turret clock making companies located in different parts of the country, has made a move to reinstate the original company names with teams of clockmakers working in the former areas covered by each of the old companies. Thus, JB Joyce & Co has a presence in Whitchurch again with a team from there covering  Shropshire, the west of England, Wales, Ireland and the Isle of Man. Each of the former companies has its own liveried vehicles and identity. Click the images below.
Two pocket watches signed by members of the Joyce family have been auctioned recently. The silver pair-cased verge watch below is signed Thos Joyce, dates to 1832 and is numbered 5973. Click the thumbnails below.
The second is another silver pair-cased verge watch, this one signed Jas Joyce. It is hallmarked for London, 1813 and is numbered 314. The case maker is William Linsley of London.
Shocklach School clock  was installed to commemorate Queen Victoria's Golden Jubilee.
Joyce Factory turns over a new leaf  (2015) The auction house opening was reported in the Shropshire Star newspaper.   The auction house was given a new name 2021, see their website here.
Chester Cathedral Clock re-installed.  An old three train clock by Joseph Smith was replaced in 1873 by a Joyce four legged gravity three train clock. When the new bell tower was built the Joyce clock was removed from the main tower.  Read more about this project, (apologies for the advertisements which pop up in this item, but the gallery is well worth seeing.) 
William Joyce of Cockshutt This clock was made in Cockshutt and came to light not long after our book was published, see signature below. Click here to learn more about this clock.